The Los Angeles Angels have reportedly made reliever Blake Parker available this offseason. Despite not being a household name, he is a solid trade candidate.
There will be plenty of quality relievers up for grabs this offseason, with Craig Kimbrel, Adam Ottavino, Andrew Miller, and Zach Britton highlighting the free agent market. However, if teams find the price of these premier relievers to be too high, Los Angeles Angels reliever Blake Parker should garner quite a bit of interest.
While Parker is not exactly a household name, he has quietly established himself as one of the most reliable relievers in the league, pitching to a 2.90 ERA over the last two years. Now, the Angels are reportedly making him "highly available".
Since joining the Halos prior to the 2017 season, Parker has enjoyed an incredible transformation. By harnessing his control and relying more on his splitter, he has developed from a fringe major leaguer into a steady force in the bullpen. In addition to his filthy splitter, Parker deploys a mid-nineties fastball, as well as a curveball and slider.
More from Call to the Pen
Although Parker has converted 22 saves for the Angels, he has predominantly been used in a setup role. Teams in search of a closer may be wary of his occasional erratic ninth inning. In 2018, his ERA in non-save situations (2.89) was more than an entire run lower than his ERA in save situations (3.97). His splits were even more drastic in 2017, when he had a 1.91 ERA in non-save situations, as opposed to a 3.60 ERA in save situations.
Despite Parker's moderate struggles in save situations, he should be an attractive trade target for teams in search of high-leverage relievers. He is a solid setup man, but is also capable of saving games if needed.
Moving forward, Parker should be penciled in as a setup man in the regular season and a stopper in the postseason. We saw several setup men, such as Corey Knebel, called upon in the middle-innings to get out of a jam this October.  Parker has yet to make a postseason appearance, but he could thrive in this role.
Parker's contract situation also adds to his value. He has two years of team control remaining and is relatively inexpensive. He earned just $1.8 million in 2018 and is due for a raise, but should remain affordable. With late-inning relievers making as much as $20 million, Parker is a bargain.
If there is a knock on Parker, it is his age. He underwent minor elbow surgery in 2015 and is now 33. He should age well, though, since he does not rely on overpowering stuff. If his velocity declines as he ages, he should be able to remain effective.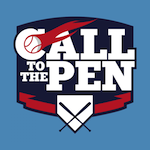 Want your voice heard? Join the Call To The Pen team!
Blake Parker is not the big name that fans will spend the winter clamoring for, but he could be a tremendous acquisition. That is, if the Los Angeles Angels are willing to part with him.