After the acquisition of Cody Allen to likely be the team's closer, we look at if the Los Angeles Angels are finishing making moves this offseason.
The Los Angeles Angels finished 80-82 last year in a top-heavy American League with a run differential of minus one.
They don't appear to be far off from making the postseason, but there was still a lot of work to be done this offseason to make them contenders.
Last offseason they made a flurry of moves in signing Justin Upton, Zach Cozart, and Shohei Ohtani.
This offseason they've made much smaller moves by signing Matt Harvey, Trevor Cahill, Jonathan Lucroy, Justin Bour, and Cody Allen.
Their total salary for 2019 is currently sitting just above $167 million, which is a little more than their Opening Day payroll in 2018, but a little less than their total salary at the end of last season.
You would have to think that money-wise the Angels are at their limit, so unless they are able to unload some money through a trade, I don't see them making another big splash this offseason.
Kole Calhoun is the prime candidate to be moved with the $10.5 million he's owed this season. But good luck finding someone to take on that contract.
More from Call to the Pen
And even if they did trade Calhoun, that would open up a hole in the outfield.
If the Angels were to make another move I think it would be to make an upgrade at second or third. If the season started today you'd like have Tyler Ward or David Fletcher starting at one of those positions with Cozart taking the other spot.
The Angels apparently have interest in Josh Harrison, who would make a lot sense and wouldn't be too expensive.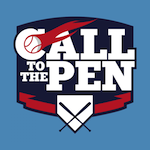 Want your voice heard? Join the Call To The Pen team!
But other than that, I think the front office is happy with the moves they made this offseason. And while it may not look like a World Series contender on paper, they hold the ultimate trump card in Mike Trout.